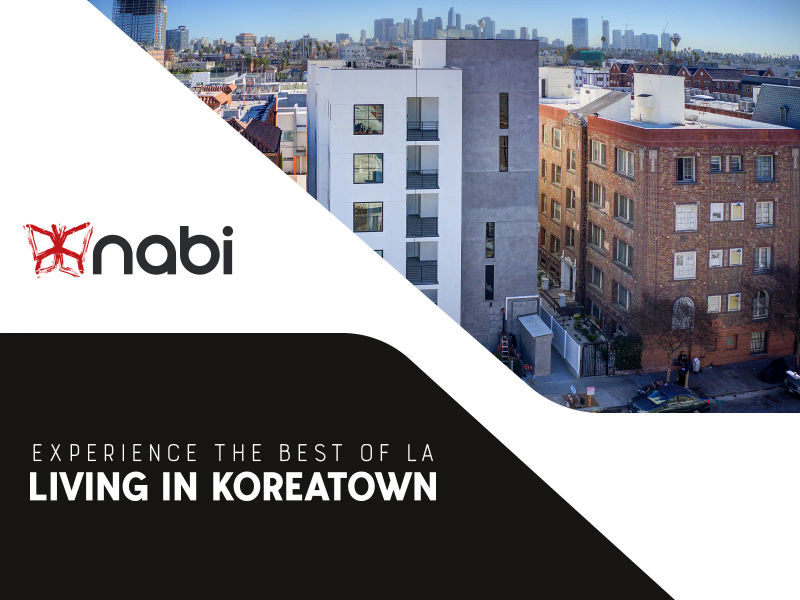 Experience the Best of LA Living in Koreatown: Transportation, Cost of Living & Lifestyle Amenities
Koreatown in Los Angeles is a lively neighborhood that offers something for everyone. With its great transportation options, cost of living, lifestyle amenities, and community events you'll never run out of things to do here. And if you're looking for the perfect place to call home while exploring this amazing city, look no further than Nabi Apartments in Koreatown. Our luxury studios offer modern amenities and convenience so that you can make the most of your time here in L.A.'s favorite neighborhood. So come explore Koreatown - you won't be disappointed!
History
Koreatown has a rich and fascinating history. Founded in the early 20th century, Koreatown was one of the first neighborhoods in Los Angeles to be populated predominately by immigrants from Korea. The neighborhood quickly gained a reputation for its vibrant culture. In the 1950s and 1960s, Koreatown continued to expand and evolve into what it is today - a vibrant hub of activity that attracts visitors from all over the world, which doors open for everyone. Koreatown's popularity surged in the mid-1980s when it became known for its trendy nightlife scene and diverse cultural offerings. The area soon started drawing celebrities and influencers from all over Southern California, making it one of the most popular destinations in Los Angeles.
Transportation
Koreatown is a great option for those looking for an urban experience with plenty of transportation options. 744 S Mariposa Ave is conveniently located near multiple bus lines and the Metro Red and Purple Lines, making it easy to explore this lively neighborhood. Whether you're sightseeing or just running errands, Koreatown's public transportation system makes getting around easy and convenient.
Cost of Living
Despite being an urban area, Koreatown is fairly affordable when compared to other parts of Los Angeles. Rent prices in the area tend to range between $1800 - $2400 per month depending on size and amenities, while utilities are slightly lower than average. Groceries are also relatively inexpensive when you shop at local markets instead of big box stores.
Lifestyle Amenities
There's plenty to do when living in Koreatown! From music clubs and karaoke bars for nightlife entertainment to the many restaurants and cafes for dining out, like Dan Sung Sa's historic Korean bar or Gaam Karaoke, you'll never run out of things to do.
There are also plenty of parks and recreational areas where you can get some fresh air and enjoy nature. MacArthur Park, located near the intersection of Wilshire Blvd and 6th Street, is the largest park in Koreatown and offers plenty of activities for all ages - from tennis courts and basketball courts to playgrounds and picnic areas. Just south of MacArthur Park is Lafayette Park, a four-acre public park that's perfect for relaxation and leisure activities. For those looking to get outdoors without leaving the neighborhood, there's also the Los Angeles River Bike Path, which runs through Koreatown and offers gorgeous views of the city.
Community Events
From street festivals and parades to markets and cultural events, you'll never have a dull moment in Koreatown! Some of the most popular local events include the annual Korean American Day Parade in April, the Summer Night Market from May-August, as well as regular screenings at The Wiltern Theatre. No matter what time of year it is, there's always something exciting going on while living in Koreatown.
Experience Koreatown With Nabi Apartments
Nabi Apartments offers modern studios and apartments for rent in the heart of Koreatown. Our luxury units come fully furnished with all the amenities you need to make the most of your time in this amazing city. We also provide a range of additional services to make your stay as comfortable and convenient as possible. So if you're looking for the perfect place to call home while exploring Koreatown, look no further than Nabi Apartments located at 744 S Mariposa Ave! Come experience all that Koreatown has to offer - you won't be disappointed.