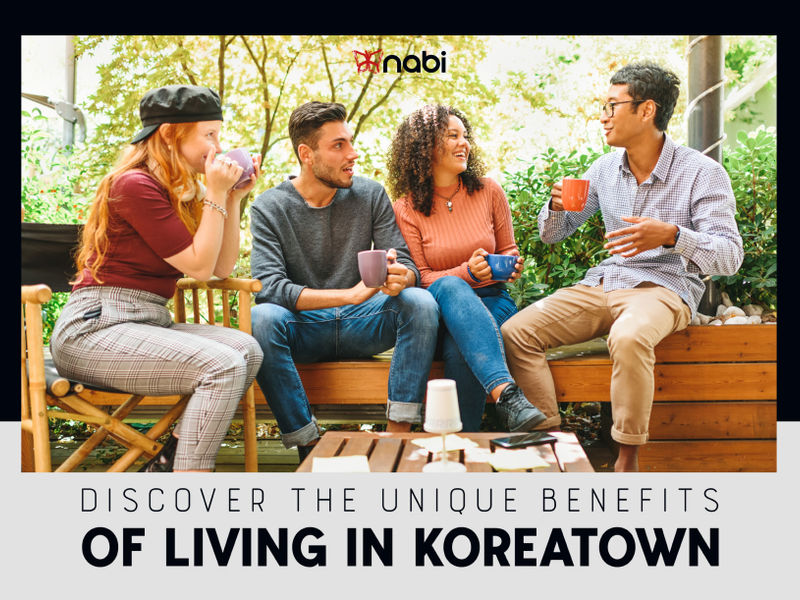 DISCOVER THE UNIQUE BENEFITS OF LIVING IN KOREATOWN: LOCALLY CENTRALIZED, MODERATE LUXURY HOUSING, AND A VIBRANT CULTURE
Are you looking for a vibrant, eclectic neighborhood in Los Angeles? Look no further than Koreatown! With its bustling streets and inviting atmosphere, it is hard to imagine why anyone would not want to make Koreatown their home. Whether you're looking for the newest trendy restaurants or traditional Korean cuisine, authentic shopping districts like the notorious Ktown Galleria and Wilshire Center Mall, or nightlife spots frequented by both locals and celebrities alike, there is no shortage of reasons that living in this unique part of LA can add energy and culture your life. And our new and stylish apartments at Nabi, located at 744 South Mariposa Ave, will be the perfect option for you. Keep reading to explore some of our favorite reasons for living in Koreatown!
The city that never sleeps
Living in Koreatown puts you right at the heart of all the action. There is always something going on - from cultural festivals to dance clubs - and you will be at the center of it all. Koreatown is home to plenty of 24-hour shops and restaurants that provide a wide range of entertainment options throughout the day and night.
Koreatown is the place to be if you are a foodie! With plenty of diverse eateries, it is no wonder why people from all around come to indulge in this unbeatable food scene. Imagine living just across the corner from your favorite restaurant. From kimchi fried rice, and Korean BBQs, to tacos al pastor and more, Koreatown has got all your food cravings covered.
Wide variety of housing options
Koreatown residents have access to some great housing options too! Sleek new developments, repurposed warehouses, and renovated properties are giving the entire neighborhood an uplifting facelift. Admiring art deco buildings and antique structures boasting vintage architecture on palm tree-lined boulevards are all part of a day in K-Town!
Our Koreatown Nabi Apartments, located at 744 South Mariposa Ave, range from luxurious units with modern features like balconies overlooking downtown Los Angeles all the way down to cozy studios and 1 bedrooms ideal for those who enjoy being away from the hustle and bustle.
One of the most locally centralized neighborhoods in LA
With most errands within a short distance, residents are able to navigate their day-to-day tasks without the need for a car. This makes life easier and more affordable as it eliminates the need to pay for parking, gas, and other transportation costs.
The streets of Koreatown are full of vibrant storefronts, cafes, restaurants, and other attractions that can be easily explored without the need of a car. Also conveniently located nearby is Wilshire Boulevard, which stretches from West Hollywood all the way through downtown - providing easy access to major metro stations as well as some of LA's most popular museums like LACMA and The Broad.
As you have read above, living in Koreatown has its many benefits! Whether you are looking for an ultra-modern studio or a 1 bedroom apartment, there are housing options in Nabi Apartments in Koreatown, located at 744 South Mariposa Ave. Living here allows you to enjoy your favorite restaurants and bakeries without ever leaving your neighborhood. Plus, you can easily access public transportation and fantastic shopping centers nearby. Moreover, if you work downtown, living in Koreatown puts you just minutes away from the office. So what are you waiting for? Come find out why so many people love living in this exciting community!